About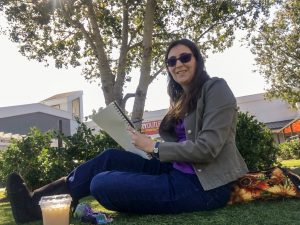 THE PURPLE ROSE GRAPHICS STORY
This is a story about a business called Purple Rose Graphics. This amazing little business was created by Patrice in the sweaty summer months of 2011 and shares an anniversary date with "National Slurpee Day" (I kid you not, it's seriously the best holiday that's not a holiday.)
Purple Rose Graphics is a small one-woman graphic design business in Orange County, CA that helps small established businesses and non-profits look their best so they can sell more. I do this by working side by side with amazing people (like you) to create one of a kind logos, business cards, brochures, flyers, postcards, rack cards or other marketing materials that help businesses like yours get customers through the door, allowing you to look better scale quickly and stress less.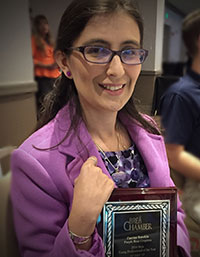 ​MEET PATRICE
Hello and Welcome! I'm Patrice! I am a lifelong Californian with a Midwest soul and family from all over the United States. This blend of all the good things from other parts of the nation with the Sunshine and Optimism of the "Left Coast" ensures that I am not your stereotypical Californian.
At the tail end of the last recession, I started a business from scratch doing graphic design for small businesses. I had this idea to blend my communications knowledge from my Bachelor's Degree in Communications – Public Relations from Cal Poly Pomona with my love of art, business, design, and marketing. To make extra sure I could appropriately serve my clients, I decided to get an additional Associates Degree from Fullerton Community College in Advertising and Design.  It has now been 10 years that I've been running my own graphic design business, Purple Rose Graphics.
I take a hands-on mentality with my business, working alongside people and listening intently to their concerns as they move forward in this process. The pieces that I create reflect who my clients are from an artistic perspective. The clients I work with are well-established independent businesses in need of the perfect brochure or marketing material or businesses that are rebranding themselves as they begin their next chapter in the marketplace, each design is tailored to fit their viewpoint.
WHAT I CREATE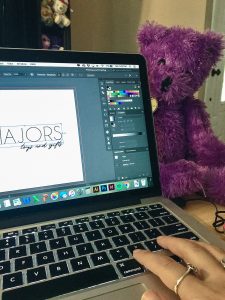 HOW  IT ALL WORKS!
The goal of Purple Rose Graphics is to make sure that the design process is as painless as possible for the clients. Rather than meet in my own studio, I will often meet with my clients over coffee or via video chat, making sure that the client comes first in any project I take on.
After an initial consultation with me, a flat rate is often agreed upon and paid for up front. This allows for my time to be reserved immediately for my client so I can focus on designing the project, and allows for no surprises for them at the end of the process in the form of a giant invoice to pay.
Included in the flat price are several rounds of drafts. After I design your product, you will be sent a proof or a design concept that you will be able to instruct changes for. By reviewing this before final production, you are making sure that the designs are to all of your specifications, all spellings and text are correct and that you are satisfied with what you and I have created together.
Once you approve the design, there are several options in moving forward:
I work frequently with local printers to make sure that the designs I create are printed with the highest quality possible. Whether it's strong card stock for business cards or the right gloss for a postcard, I work with these printers to make sure that your design is featured on the right platform. Afterward, I can either hand deliver it, or it is shipped to you directly.
I can also send the design to you in an appropriate computer format to take to your own selected printer and used accordingly for your business purposes.
AWARDS AND AFFILIATIONS
"People Love Us on Yelp" 2015 and 2016
Member, Brea Chamber of Commerce
Member, Placentia Chamber of Commerce
Brea Chamber of Commerce Young Professional of the Year, 2016
Seen on "All in with Bryan Weatherford" on local channel 8.4, 2020