Branded Marketing Material Design
Purple Rose Graphics can take care of your business and marketing needs. We can create all of the branding identity, advertising collateral, and business cards a small business in Orange County needs to grow!

Package Deals
Packages of my most commonly requested services bundled together for one affordable price. My usual top-level customer service and tailor made designs unique to company's individual audience and personality.
Lavender
Good for those getting started!
15 MINUTE DESIGN CONSULTATION

LOGO (FULL COLOR AND ONE COLOR

STYLE GUIDE FOR LOGO

BUSINESS CARD DESIGN & 100 PRINTED CARDS

1 SIDED FLYER DESIGN & 25 PRINTED FLYERS
Violet
When you need a little more so you can grow
30 MINUTE DESIGN CONSULTATION

LOGO (FULL COLOR AND ONE COLOR)

STYLE GUIDE FOR LOGO

BUSINESS CARD DESIGN & 250 PRINTED CARDS

1 SIDED FLYER DESIGN & 50 PRINTED FLYERS

BROCHURE DESIGN & 50 PRINTED BROCHURES
Aubergine
For those that want it all!
30 MINUTE DESIGN CONSULTATION

LOGO (FULL COLOR AND ONE COLOR)

STYLE GUIDE FOR LOGO

BUSINESS CARD DESIGN & 250 PRINTED CARDS

2 SIDED FLYER DESIGN & 100 PRINTED FLYERS

BROCHURE DESIGN & 50 PRINTED BROCHURES

1 HOUR BRAND COACHING
Advertisements
Advertisements are a great way to promote your company. They come in several different sizes and shapes. They're incredibly versatile, you can buy ad space in many different printed publications or online. Go to the publications, whether printed or online, that services your ideal customer market. Most advertisements include information about the company and then a discount or special offer of some kind to attract customers. I help North Orange County, CA businesses with their advertisements of any size.
First off, I need to know the size and shape of your advertisement before I send you an estimate. Smaller ads need more love to make them gorgeous and because of that cost a little more than a larger less complicated ad. Once we get all the boring business details wrapped up I start designing. I will ask you to send me the dimensions of the ad, the text you want on your ad along with your logo and other pictures you must have included. I also will want to know the audience your advertisement is targeted toward. Now, just sit back and wait! I'll email you a proof of your advertisement within 3 to 5 business days for you to review. You tell me what you love about your ad and what you'd like to change. I prefer to not retype your text, if possible. I figure you have it written exactly the way you want your customers to read it. Please make sure to check the spelling and grammar too! We can adjust things until you have an effective eye-catching ad! Contact me today to find out how we can help your company grow!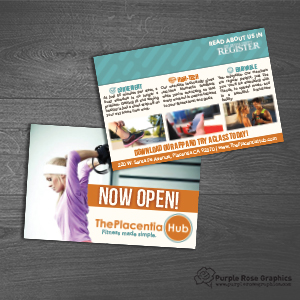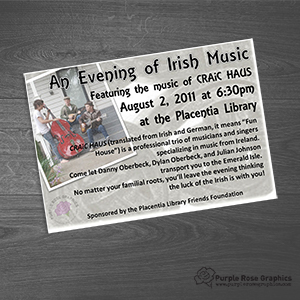 Business Cards
Your business card is your first impression. It can't be too cluttered or too sparse. It should reflect your Orange County based brand's image accurately. Templates aren't always a great option because they are so generic they don't reflect your brand well. If you don't have a business card or want something new, please have one made for you that ties into your brand's image.. Business' with unique, colorful cards get remembered more easily and see an increase in their sales. For those who are job hunting, nothing looks more put together and professional than a custom business card. Its money well spent for a great first impression.
I'll give your business card the best treatment. We'll sit down and you tell me what you'd like to see included. I need to know who your audience is going to be, if there is any existing corporate branding that I'll need to use. I'll design not just the front, but also the back of the card for a flat rate. This way I can help you maximize your advertising space. You'll get options to choose from and can adjust until it fits your business. You'll have something unique, professional; that fits your business and will help you make a great first impression. I can't help you create your best business card until you contact me! Please don't delay! I can't start with out you!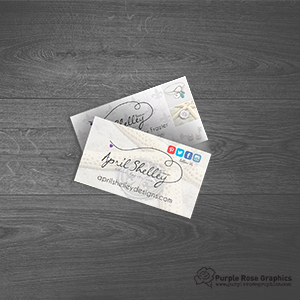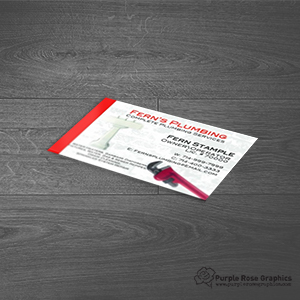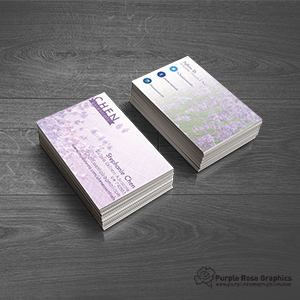 Brochure
Brochures are typically used for informational purposes, but the type of information that it shares is up to you. It can be very general company information or very specific information on a product or service you provide. Brochures can be one of the most useful pieces of marketing your Orange County based business can have!
There are a lot of different styles of brochures. The first thing I usually do is to determine the style of brochure. This includes how it is folded and how many pages. Sometimes multi page documents such as annual reports, for example, are called brochures also. If you have text, logos, or certain photos I will need copies of those. I will do the layout and send you a digital proof with in 3-5 business days of receipt of payment. Your estimate price includes a few rounds of prepaid changes so that we can edit your brochure until it matches the rest of your marketing.
Contact me today to find out how Purple Rose Graphics can help you!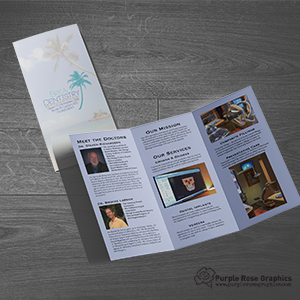 Flyers
Flyers can provide your potential clients, financers, or other individuals information about your business. This information can include anything from your latest projects, introduction of your products or services, to your most current sales offer. You can use a flyer to entice potential customers to use your business with a great sale or they can simply be a tool for introducing your business or personnel.
Getting started to create your new custom flyer is easy! First contact me. You can call, email, or use the handy contact form on my website. I usually respond to new inquiries the same day or the next business, if I'm contacted after 7pm PST. I'll send you an estimate with payment information. Once we get all the boring business details (like payments and contracts) out of the way. It's time for the fun part!
I collaborate with you on your new flyer. We'll sit down and you tell me what you'd like to see included. I need to know who your audience is going to be, if there is any existing corporate branding that I'll need to use, and how you're planning to use the flyer. Once I have all that information, I'll start selecting design elements that will provide you with the most effective flyer. The way I like do things is a bit different than other designers. Flyers are always a flat fee based on size and if it is 1-sided or 2-sided and they come with options. I'll make you some options to review and then you can tell me what you love or dislike about each until we assemble a flyer you'll be proud to share that will get noticed. Contact me today to get started!
Flyer for Meals on Wheels-Fullerton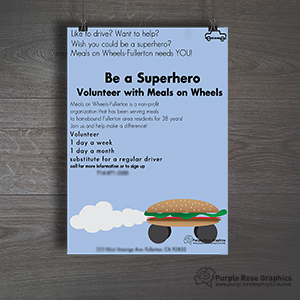 Letterhead
Letterhead is used to identify your company on personal written materials. It is recommended that you have letterhead that matches your business card. Letterhead is similar to stationery, which is used for an individual person. Typical sizes for both letterhead and stationery are 8 ½ by 11, but can vary. This is a very versatile product and has a lot of uses.
The best letterhead and stationery has personality and makes use of simple design elements in a unique way. If the letterhead is for a business or one of it's executives, I will want to make sure the new letterhead fits in with their current marketing efforts. Color typically plays a key role in creating letterhead as does ease of use. If necessary I can make sure that your letterhead is something that can be used in most desktop printers. Want to know more? Contact me today!
Stationery Set for a Florist in Anaheim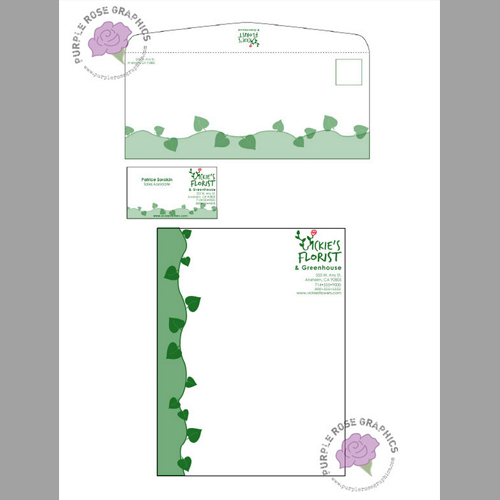 Media Kits
A Media Kit can contain any number of sheets of information. The smallest media kit I've seen has been the equivalent of three sections of information. One section that tells people about the company history, another section that talks about your specific products andor services, and the last section that explains to people all about your industry. It sometimes contains more than three flyers worth of information. Traditionally, media kits were given to reporters or other journalists who are interviewing you about your company. They are meant to be an introduction to your company and your industry. A lot of businesses also provide these kits to potential customers or funders as a way to introduce the company to them during a pitch presentation.
The best way for us to get started is to select your audience and determine what information you'd like to share with them. Tell me about your current branding and, if necessary, share with me copies of your logo, official company colors, etc. I can create a great multi-page media kit by organizing your information into something that is effective and achieves your business' goal. I want to help you and your business create the best first impression possible. Let's grow your Orange County, CA business together. Contact me today to find out more!