Logo Design & Vector Art 
Logo design is really about creating your or your company's visual identity, its image. This is what people will see when they look you up and it needs to tell them everything about what you do in a small image.
I can guide you through the process of creating your logo! I can also redraw your logo or any image you have the right to reproduce from a photo.
HOW IT WORKS:
Logos and Vector Art are priced at a flat rate (see tables). They are designed in collaboration with you after payment has cleared and confirmation letters are returned.
Everything starts with the consultation, which you can book at the top of the page. This is where you'll get to tell me what you would like to see in your logo. If you aren't sure what you want, I do have a questionnaire I can share with you that can help me (and you!) determine what is important to your brand and how to express that visually.
If you and I are doing a logo update, I will want to know what you love and what you dislike about your current logo. This information helps me make the best possible changes that will help your company achieve its goal for any upcoming rebrands.
I want you to have a unique logo that you will be proud to display. Let me help your brand stand out! Want to know more? Would love to get started? Contact Purple Rose Graphics and book your free consultation today!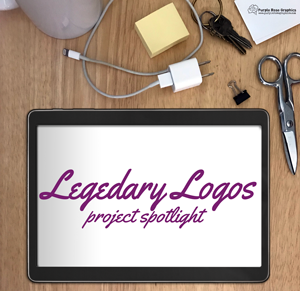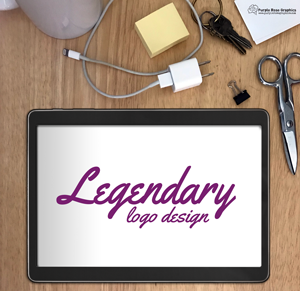 We Lost the Vector File
Recreating Your Logo
Imagine this: You want to make some fun t-shirts for your next staff retreat with the cute mascot your team member drew and the print shop asks for a Vector file…which you don't have! What do you do? Call me and I'll redraw it for you and send you the right format..Corporate Retreat Saved!

What's so cool about Vector Format files such as EPS? They can be made any size without becoming blurry which makes them great for printing promotional products like pens, t-shirts, and hats!

What about this one: You just moved offices and the sign shop asks for a vector copy of your logo for the new reception area sign, but you can't find the right file anywhere only to find out "the intern" deleted it. So you grab your logo off the website. The sign shop tells you nope, not a JPG…a vector file! Now what? Call me and I'll copy your logo for you and send you the right file formats. No one will ever know! 

Don't be too mad at "the intern" for tossing out those files! Unfortunately, since they only open on special software Vector files such as ".AI", "EPS", or "SVG" are often deleted or lost, but have no fear I can help!

Here's What You Get:

• Your Drawing or Current Logo Redrawn into Vector Format

•15-MINUTE DESIGN CONSULTATION

•FULL-COLOR LOGO

•3 ROUNDS OF CHANGES

•FINAL FILES IN EPS, PDF, PNG, JPG
Just the Logo
When all you really need is a logo!
Logos are the face of your business they share your brand's personality in a small image and set the tone for the customer about what to expect from your business.

I draw every logo from scratch based on what we discussed in our consultation meeting and any inspiration you share with me about your brand and what you'd like to see.

The one thing I do very differently from a lot of other graphic design specialists with my logos is that I give you four options to review. These will allow us to pick a direction to go for the logo and you can mix and match them during the revision process, which speeds the process up and gets you not just a logo, but a legendary logo, much faster!

Here's What you Get:

•30-MINUTE DESIGN CONSULTATION

•FULL-COLOR LOGO

•ONE-COLOR LOGO

•4 OPTIONS TO MIX-MATCH

•3 ROUNDS OF CHANGES

•FINAL FILES IN EPS, PDF, PNG, JPG