Invitations & Announcements
I'm also here for your special occasions in life; those moments when something special and personalized would be just the right addition to your event. Come see us in Orange County for your Custom Graphic Designs
VISIT MY NEW INVITATIONS DIVSION
THE GRAPHICS GAL
. Same Great Service, More Offerings and a New Name! Come Say Hello!
Please note printing can be included in the quote upon request*
*additional costs will apply
Please See the Contact page for a quote today!
All Pricing Subject to Change Without Notice
Announcements
Announcements can be used for anything special you need to inform family and friends about. Typically, announcements are used for the arrival of a new baby. They can also be used to inform family and friends about a new pet, a new home, or your recently completed destination event.
The mood and look of an announcement depends a lot on the occasion for which it is being used. Once I know your occasion, what type of look you'd want, and any special requests, I can create an announcement. A proof with some options will be ready for your review in about 3-5 business days after your payment clears. I can design your announcement with custom clip art, photos you've sent to me, or certain fonts you want to see used or anything else specific that you're interested in having included. Once you choose one of the options we can edit the colors and fine-tune the placement of design elements until you're ready to send it to family and friends. Let's share your special news today with a custom Announcement! Contact me to find out more or to get started!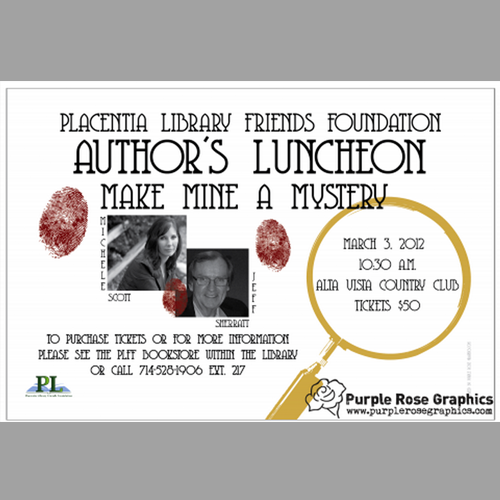 Custom Cards
Custom cards are another great way to personalize a memory. Be remembered for your amazing style that goes right down to unique cards. Unique items, such as custom cards, are saved more often than generic cards. Say thank you or happy holidays in a unique way! They also make a great gift for special family, friends, or clients.
There are three great ways to buy the notecards I design. You can buy them as is from my Shop page. Cards are always high quality, blank inside, and printed in the USA. If you'd like 12 or more cards, please let me know, I can accommodate a larger request.
Your second option is a semi-custom card. Use the front of one of my existing designs and customize the inside. I can even include your business' logo on the back of the card. If you would like to take advantage of this option, I will need you to share a copy of your preferred text, if any, and logo with me. You must order a minimum of 12 cards and is priced with printing included.
Your third option is a completely custom designed card. Tell me what you are looking for in a card. Whether it's a simple thank you with your name and logo or something more complex, I can usually design it for you. This option also requires a minimum order of 12 cards and is priced with printing included.
Ready to start creating your custom card? Contact me today for details!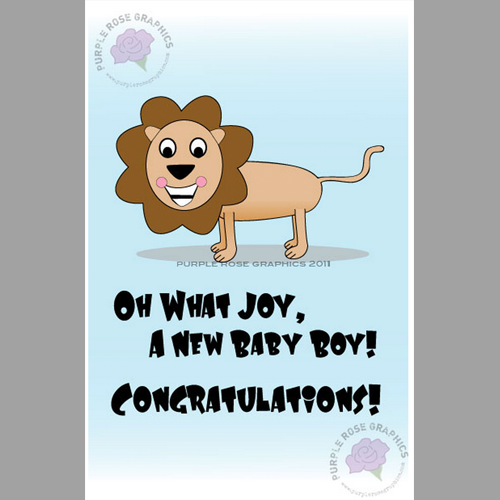 Invitations
Formal invitations are the guests' first impression of the event-especially if you don't use a Save-the-Date card. It can be the first detail of your event that your guests will see. It doesn't just tell them where and when the party will be, but also expresses what type of clothing to wear and the personality of the event's hosts. Many guests elect to save the invitation after the special event especially if it is a life cycle event such as a wedding or coming of age ceremony. Make your invitation so special that your guests will be raving over it for years to come.
If I don't already know all the details about your event, then we will sit down while you tell me about your event. If you have a Save-the-Date card that you'd like me to match, please let me know and share one with me.
I do two styles of invite, flat like a postcard or folded like a greeting card. Once I have a grasp on your event and the style of invitation you'd like, I will create an invitation option or two for you to review. I know writing the text for an invitation can be difficult. If you don't already have text that you want to use, I can provide some options for you to review that I can customize with your event details or I can use placeholder text while you write your own special wording. Either way you'll get a great invitation design that you'll be happy share with your guests. Let's make your perfect invitation today! Contact me to get started!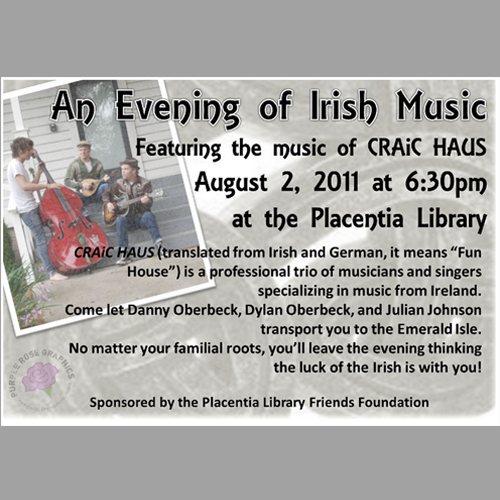 Save-The-Date
Every event is special. Whether it's a corporate fundraiser or a wedding or a special birthday. Let's make your event a success with custom Save–the-Date cards equally as one of a kind! Save the Date Cards are placeholders for party guests. It informs them that there is a special event coming soon. Now guests have a chance to make the necessary arrangements in order to attend the upcoming event. These handy informational cards also set the theme and tone for your event. They can match your event invitation exactly or they can use similar elements as the invitation.
Tell me about your event: Does it have a theme or a special honoree? Once I know all of the details about your event, I can create a custom Save-the-Date Card that can get your guests anticipating your special day. I've drawn custom clip art pieces for events when I couldn't find the artwork that my client wanted. This is the first detail in your journey to an amazing event. I'm excited to meet you! Contact me today!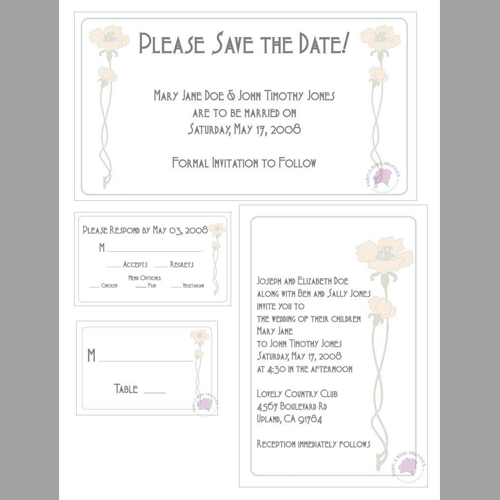 Stationery
Custom letterhead is the perfect tool for business' to continue with their corporate branding. Personal stationery is also the perfect tool for the busy professional or stay at home parent to express their personality. Write notes to your clients and co-workers on customized stationery and they will make no mistake as to who sent them the note! Make memories with your children by tucking notes on special stationery into their lunch or clip notes to the teacher on your stationery and the teacher will always know which student has an amazing parent
The best stationery has personality and makes use of simple design elements in a unique way. For personal stationery, I collaborate with you to pick a theme andor use initials to personalize it. When someone sees your stationery, I want that person to instantly think of you! Color typically plays a key role in stationery as do ease of use. I typically can create something that has the ability to be used in most desktop printers. Want to start creating your memorable stationery? Contact me today to learn more!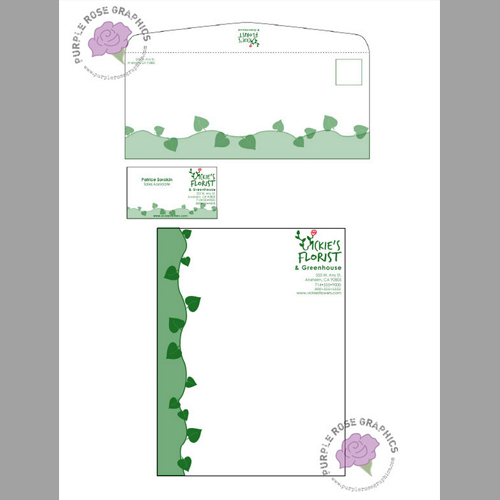 Custom Wedding Invitations
Custom wedding invitations are sure to leave a lasting impression on your friends and family members. As a graphic designer in Orange County, I have extensive experience with wedding invites and I truly enjoy designing them.
I fully understand that nothing is more personal and intimate than your wedding! I will work with you closely to make sure that your invites are something that you will cherish for a lifetime.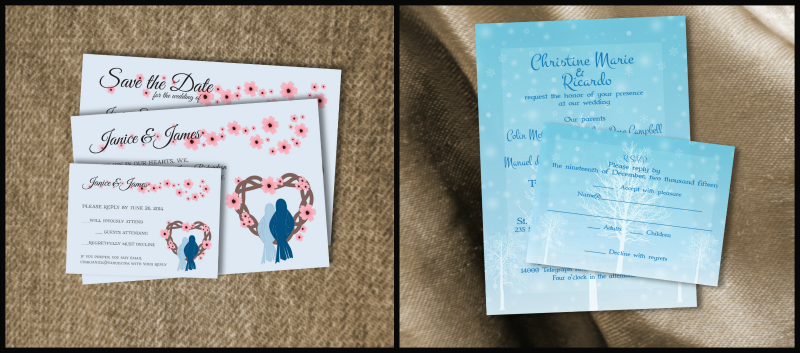 Contact Us About Your Invitations